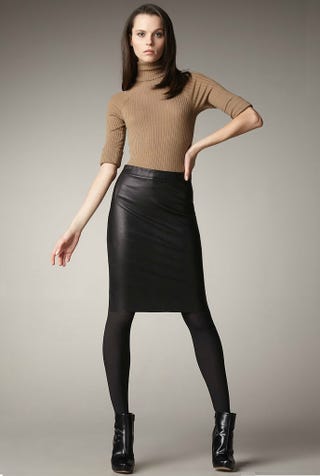 Much as we adore those pretty little booties that are all the rage now, let's be honest: they are not exactly God's gift to women who weren't gifted in the height department. Not only do they not elongate the frame like thigh-high boots, they seem to rather shrink the silhouette! But should that mean you miss out on a trend that has stuck around for very many seasons now and one that seems to stay? The answer is a vigorous shake of the head, dear petite sisters. You and us, we shall overcome this sartorial challenge together. And since actual lengthening of the legs is not an option yet, we'll resort to tips and tricks that bend this trend into submission.
Tip # 1: Pair them with form-fitting bottoms
Boot-cut and baggy jeans are sadly a no-go area for us Petitas. Skinny or straight leg jeans that define the body are less overwhelming and draw attention to the length of the legs, which make them the best partner to ankle boots. Leggings and jeggings are also a great alternative, but if you're curvy and aren't excited at the image of your butt in leggings, layer them underneath shorts or mini-skirts so you get to cover the essentials yet get enough leg room to expose.

Tip # 2: Wear them with high-waisted pants and skirts
We do know that the opinion on the attractive quotient of high-waisted everything diverges into Yay and Nay in equal measures (primary allegation: makes the butt look not so great). But if you're in the longer-legs-over-apple-bottom team, you'll agree high waist bottoms are everything! Boyfriend jeans with booties are always a great combination. Whether jeans or wide-legged trousers or even empire-waist dresses and skirts, they make an excellent team with ankle boots due to their ability to make legs look flatteringly long.
Tip # 3: Work with what you've got—show off those legs
You might not be the owner of "spidery long legs" as Rebecca Bloomwood from 'Confessions of a Shopaholic' laments, but if you've been doing your squats and have silky smooth skin that many would kill for, don't be afraid to flaunt them in the tiniest of shorts or skirts that you won. Ankle boots are a perfect match to these. For a more modest option, you could wear patterned or lacy tights but make sure it's not too busy a print or pattern.
Tip # 4: Monochrome helps: match the bottom to your boots
Sticking to one color or color group goes a long way in lengthening both the legs and the silhouette. Wearing a pair of boots, leggings and top all in one solid color, topped off with a long overcoat in either a contrast or complementary color or a pattern like horizontal stripes, makes the look interesting while adding plenty of virtual inches to your frame.
Tip # 5: Pointy or V-cut booties
It's a no-brainer: boots with pointed toes do a much better job at making your legs look longer than ones with rounded edges. We strongly recommend investing in a pair of pointy boots in nude-esque colors like taupe, light brown, gray or even nude, for creating a stronger illusion of long legs. Equally effective are boots that have V-cut ankles rather than ones that gather tightly around your ankles.
Final word
Heels. (Duh)
We'd obviously say the higher the better, but you already have a wardrobe teeming with the highest heels, don't you?